LEGO Universe
Mini-Rank
Minimum Rank to Start
Rank 0
Item Primarily Used
Plastic Pellets
How to Start
Befriend Prof Brickkeeper
Reward for Completing
The LEGO Universe Skin and Friendly Felix's Concert Module

LEGO Universe, commonly abbreviated to LU, refers to:
On the website, users can submit creations to the Creation Lab and can play a game called Help The Minifigures. You help them enter LEGO Universe to battle the menacing dark side. The Beta Testing began on March 11, 2010.
The Campaign
The LEGO Universe campaign on My LEGO Network shows the steps in obtaining the LEGO Universe Creation Lab Badge and the Friendly Felix's Concert Module.
In March 2009, three Networkers joined Prof Brickkeeper on My LEGO Network. They are as follows:
The MMOG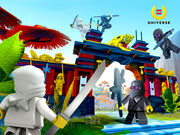 How to Play
The game uses a subscription model, i.e. pay to play.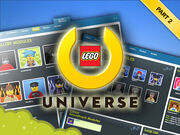 Release Date
The original release date was the Summer of 2009. The actual release date was October 26th, 2010. The public Beta Test started on March 27, 2010.
"LEGO Universe offered early access to LEGO fans – the "Founders" – started on the October 12th , and was officially launched on October 26th"[2]
The team is getting ready, Prof Brickkeeper is sending out messages to users that say: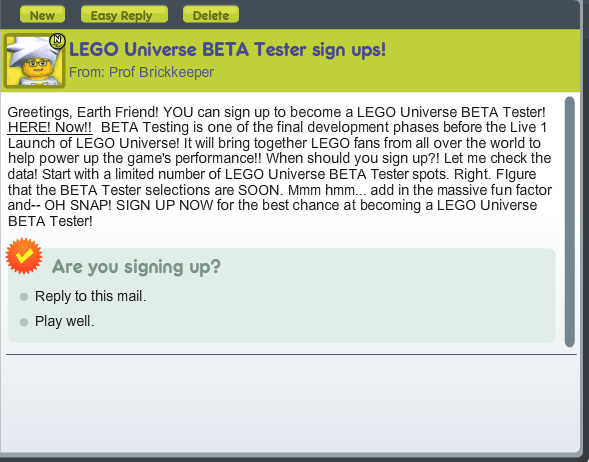 Closing Down
The game came to an end on December 31, 2011 for non-members. Players with active accounts on that date were able to play until January 30, 2012[3].
LU Networkers
See Also
External Link
Community content is available under
CC-BY-SA
unless otherwise noted.