My LEGO Network (or MLN for short) was a Flash and ASP.NET-based social networking site built specifically for children by the LEGO Group. It integrates standard social networking with a gaming function, where players can advance through the Ranks and exchange virtual prizes. The game also allows interactions with other players and computer-controlled Networkers through pre-written mail messages and integrates with the showcasing systems of LEGO.com.
History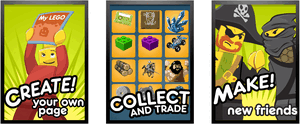 My LEGO Network was designed to replace the original LEGO Club Pages. The website was released for Beta in late 2007, and was officially released in January 2008.
Currently, players can gain up to Rank 10, and there are hundreds of Items and Modules for players to trade, create and display on their Public Page. The game supports thousands of players.
My LEGO Network shut down on September 30, 2015. According to the LEGO Message Boards moderator WhiteAlligator, there are no plans to make a successor to My LEGO Network.
Trivia
To reach Rank 10, one needs to have uploaded a LEGO Factory item to the Gallery.
Community content is available under
CC-BY-SA
unless otherwise noted.